Edgar Castillo
Managing Partner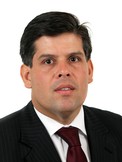 Phone: +58 212 2633358
edgar.castillo@conteven.com
Send personal email
Mr. Edgar Castillo is Managing Partner of Contevenca, the largest executive search firm in Venezuela, with offices in Caracas, Valencia, Maracay, Maracaibo and Puerto La Cruz. Contevenca, established in 1976, is a shareholder of IIC Partners, one of the world's top 10 executive search organizations.
Mr. Castillo has over 20 years of experience in the executive search field, having successfully conducted numerous assignments in Venezuela and others countries in Latin America, for local and multinational companies.
He holds a Bachelor of Science degree in Accounting, and graduated from the Advanced Program on Negotiation from Harvard University (Boston). He is bilingual in Spanish and English.
Mr. Castillo is member of IIC Partners' Industrial worldwide Practice Group, the Association of Executive Search Consultants (AESC) New York, the Venezuelan American Chamber of Commerce and Industry (VENAMCHAM), the British Venezuelan Chamber of Commerce, the German Venezuelan Chamber of Commerce and Industry, and the Chambers of Industry of Carabobo and Aragua states.